10.08.23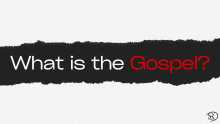 Series: What is the Gospel?
Category: Salvation, Gospel
Speaker: Jason Williams
In this sermon, we looked at Isaiah 6:1-7 where the prophet Isaiah shares his transformative vision of the holiness and majesty of God, revealing the immense chasm between God's holiness and our sinfulness. In this vision, God was seated on a throne as seraphim worshipped Him, declaring, "Holy, holy, holy is the Lord of hosts; The whole earth is full of His glory!" When confronted with God's holiness, Isaiah was brought to a place of humility where he confessed his sin and the sin of his people, recognizing their unworthiness and their need to be cleansed. In response to Isaiah's confession, one of the seraphim moved toward Isaiah, revealing God's grace and initiative to move toward us to cleanse and redeem us from our sin. As the seraphim touched Isaiah's lips with a coal from the altar, cleansing Isaiah of his sin, we see a beautiful foreshadowing of the cleansing work of Jesus on the cross. We, too, are called to respond to God's holiness by turning toward Him in confession and repentance, leading us to the miraculous cleansing grace of Jesus that comes from believing the Gospel.