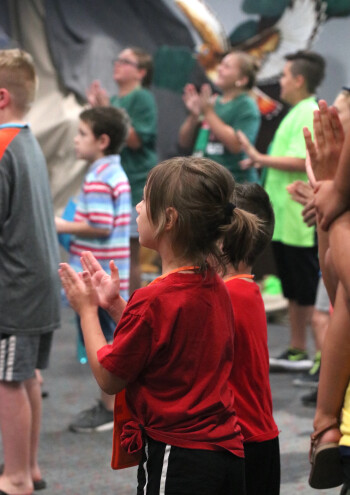 Kids enjoy worship time during VBS

SR Kids Sunday classes meet during our 9:30am & 11:00am services! More info below.
Nursery -
6 weeks - 3 years
Our baby and toddler classrooms are located near the restrooms in the building next to the Worship Center. We have separate classes for our infants and walkers under the age of 2 years. At 2 years old, we have a special toddler class where we begin to introduce truths about God with a fun and exciting curriculum!
Pre-K - Kindergarten Class -
3 years - 5 years
Our Pre-K - Kindergarten class is an exciting time for these young kids to learn from God's Word, do crafts that reinforce the lesson, and enjoy time with little friends. We have amazing volunteers that firmly believe in the truth of God's word and are gifted at helping young minds and hearts understand it. Children must be potty-trained before moving to this class.
1st - 5th Grade Classes
1st - 5th graders engage in age-appropriate teaching and discussion as they continue to grow in Christ! Our large group time engages kids through worship in song, teaching, exciting skits, and fun while learning about God. Our small group time provides a smaller group in which kids can discuss the Biblical truths presented and apply these truths to their lives.
Volunteers
All volunteers have background checks and training. There are a minimum of two volunteers in each class and sometimes more, depending on the number of children in the class.
Check-In/Security
We have an electronic check-in system that you'll sign in on each Sunday. Two labels will print: one to be placed on the back of your child's shirt, and one that you'll keep. After the service, you will give your label to your child's teacher to pick them up. Security is one of our top priorities!
SR Kids 3rd-5th grades also meet Wednesday Nights from 6:30pm-8:00pm during the school year. Please

check our calendar here

for meeting dates.